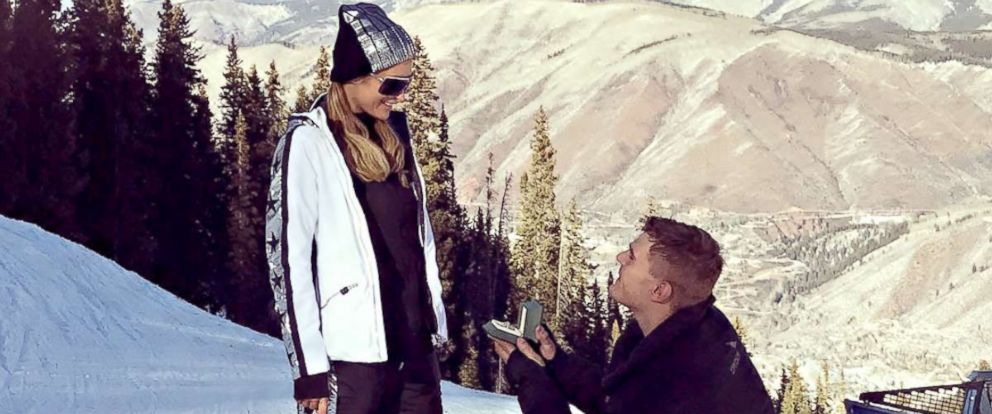 Paris Hilton is engaged to "The Leftovers" actor Chris Zylka, she announced Tuesday on Instagram.
In a series of photos, the heiress revealed that Zylka proposed on a mountain in Aspen.
"I said Yas! So happy & excited to be engaged to the love of my life. My best friend & soulmate. Perfect for me in every way. So dedicated, loyal, loving & kindhearted," she captioned the pictures. "I feel like the luckiest girl in the world! You are my dream come true! Thank you for showing me that fairytales do exist."
Hilton, 36, and Zylka, 32, have reportedly been dating for about a year. This will be the first marriage for Hilton, who was previously engaged to model Jason Shaw and Greek shipping heir Paris Latsis. Zylka, who also appeared in "The Amazing Spider-Man" and "The Amazing Spider-Man 2," was previously engaged to model Hanna Beth Merjos, according to reports.
The former reality TV star has been gushing about Zylka on social media for the past few days, saying that "one day, someone will walk into your life & make you realize why it never worked out with anyone else."
"Never in a million years did I think I would find someone so completely perfect for me. Someone who would make me happier than I ever dreamed I could be. Someone that would touch my life so profoundly & give me a whole new reason to breathe," she wrote in a post on Dec. 30. "But then I found you & realized that everything I anticipated you to be doesn't even compare to how incredibly amazing you are… #MyLove"