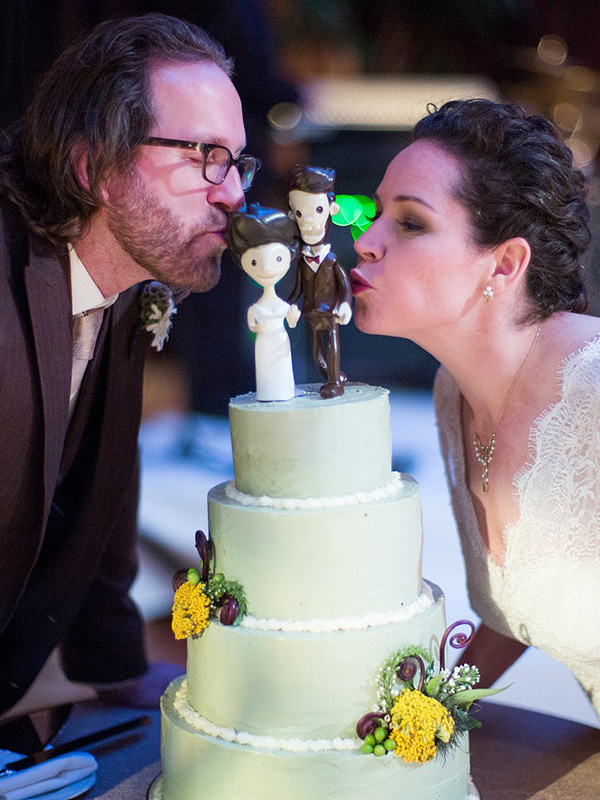 Jesse Lirola
Imagine being invited to a wedding where the menu was created by a fleet of celebrity chefs. (How quickly would you return that RSVP card?) Well, that's exactly what the lucky guests at Stephanie Izard's wedding were treated to last weekend.
The Top Chef season four winner, who married craft-beer consultant Gary Valentine on Sunday, had an impressive list of Chicago-based chefs cooking the food for her big day. Offerings included a pasta course of cavatelli, smoked eggplant and heirloom tomatoes by Chris Pandel of The Bristol and Balena restaurants; a family-style main course of red wine braised beef short ribs and grilled broccoli with bacon vinaigrette by Giueseppe Tentori, executive chef at GT Fish & Oyster; and a groom's cake decorated to look like a tiny cask of beer.
And let's not forget the wedding cake: Mathew Rice of Izard's own Girl & The Goat rolled out a four-tiered stunner made of alternating layers of Strawberry Nesquik-infused chocolate marble cake with bacon buttercream and a Cheez-It-flavored cake with a filling of chocolate ganache, peanut butter and chocolate-covered Cheez-Its. Yes, those Cheez-Its. "Everyone raved about it," said Izard, who confessed they're her favorite snack.
"I was blown away by the food at our wedding!" she said. "We had such amazing friends put together an incredible menu that everyone loved."
Now if this menu is getting you as hungry as us, good news: You can make the bacon-broccoli dish straight off the couple's menu.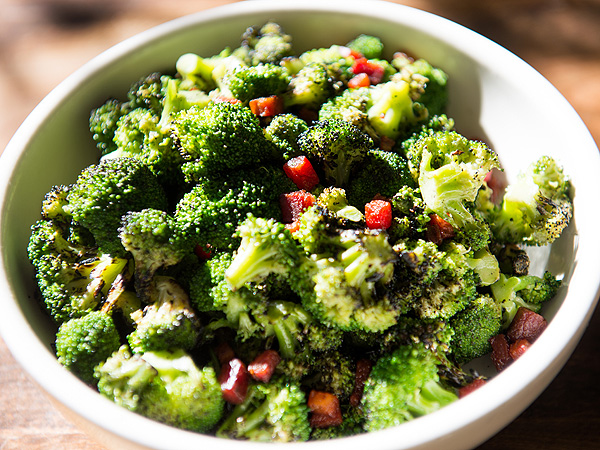 Jesse Lirola
Grilled Broccoli with Bacon Vinaigrette
Serves 4-6
3 bunches of broccoli
Olive oil
Salt and pepper, to taste
½ lb. bacon
2 cups sherry vinegar
1 tbsp. Dijon mustard
1. Cut the broccoli into florets. In a large pot of boiling water, cook the florets until crisp-tender, about 45 seconds. Remove the broccoli, and dunk it immediately in ice water to stop the cooking. Drain well and dry the broccoli.
2. Meanwhile, preheat a grill or grill pan over medium high heat. Add oil, salt, pepper and broccoli, and cook on medium high heat until crisp-tender, about 3 minutes. Remove from heat, and set aside.
3. Cut the bacon into small ½-inch pieces. In a large skillet, cook the bacon over medium-low heat until crisp, about 10 minutes. Strain the bacon and reserve rendered fat.
4. In a medium bowl, whisk the mustard and sherry vinegar, and slowly add in the rendered bacon fat until combined.
5. Toss the grilled broccoli with the bacon vinaigrette, salt and pepper, and serve.
Please give us your submissions and idea's to Wedding-Oregon.com

If you would your wedding, wedding announcement, wedding venue, cost savings idea,  or a video to be posted under Wedding-Oregon.com please fill the information you would like posted about your wedding, we will be glad to post it.